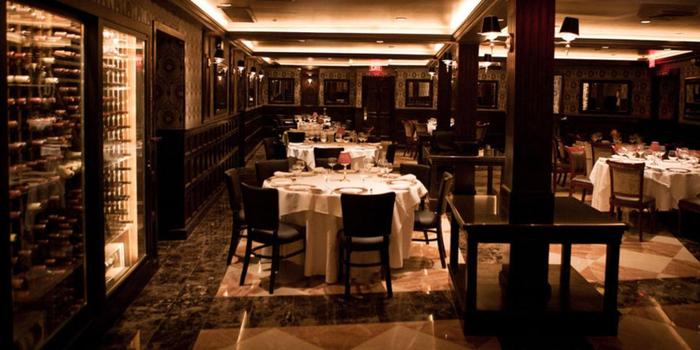 Image: Wedding Spot
New York City is known worldwide as a cultural Mecca for many of the finer things in life: art, theater, music, fashion, architecture, and cuisine.
The city's rich culinary history dates back to 1837 when Delmonico's (still in operation) was the earliest restaurant worthy of review by the New York Times, featuring mainly French cuisine, linen tablecloths, a wine list, and Manhattan's first a la carte menu, or "bill of fare" – a Parisian custom contrary to the predetermined set meals that were standard to the inns and taverns of New York City at that time.
Meanwhile, back in France, two entrepreneurial brothers that owned a tire company had the bright idea to start a guidebook, largely intended to promote travel and boost the automobile industry (ultimately creating more demand for their product). Andre and Edouard Michelin's little red book was filled with handy information for the traveler such as maps, how-to's, and suggestions on where to visit, dine and board. Eventually, the Michelin Guide developed into a full-fledged 1-3 star rating system for fine dining establishments.
Today, receiving any numbers of stars in the Michelin Guide is a phenomenal feat for any restaurant; one star signifies "a very good restaurant in its category," two means "excellent cuisine, worth a detour," and the highly-coveted three-star rating proclaims to the world that the establishment has "exceptional cuisine, worth a special journey."
New York City has 77 establishments that received Michelin Guide ratings in 2017. Read on for an overview of five of the six restaurants in Manhattan that received 3 stars (Eleven Madison Park is closed for the summer of 2017 for renovations).

Chef's Table at Brooklyn Fare
Located at 431 West 37th Street, Chef's Table at Brooklyn Fare offers a 2 1/2-hour tasting menu centered around shellfish and seafood. Fusing Japanese cuisine with classic French technique, Chef César Ramirez unobtrusively announces each course himself, amid a handsome dining room of copper pots and fine china, serving what NY.Eater describes as "one of the city's most comfortable and compelling expressions of haute cuisine."

Jean-Georges
The elegant and intimate dining room at Jean-Georges' 1 Central Park West location offers not only spectacular views of Central Park, but masterful dishes inspired by the local farmer's market and Chef Jean-Georges Vongerichten's passion for the "exotic and aromatic flavors of the East." Trading meat stocks and creams for lighter bases of vegetables, fruits and herbs, Chef Jean-Georges delivers fresh and inventive takes on traditional dishes that burst with flavor, aroma, and color. Three-course prix-fixe, two-course lunch, and six-course tasting menus are great opportunities to experience Chef Jean-Georges' signature creations.

Per Se
Also offering glorious Central Park views and exceptional cuisine is Chef Thomas Keller's Per Se, at Time Warner Center, 10 Columbus Circle. Featuring classic French technique, an extensive wine list – that boasts both aged and smaller-produced varieties – and recognition for the "highest international standards for hospitality and culinary excellence," Per Se prides itself on carefully selected ingredients and a team of highly-skilled chefs working in tandem to achieve perfect execution. Nine-course chef's tasting menus and vegetable tasting menus are offered daily. A five course tasting menu is also available to walk-in patrons at The Salon.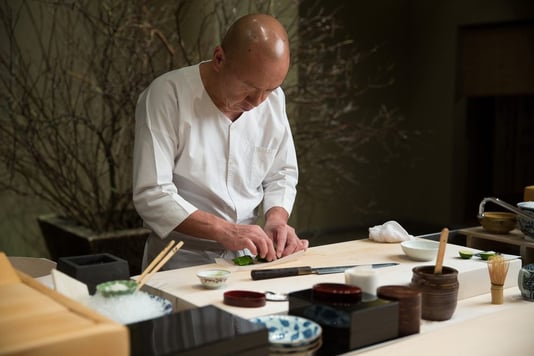 Masa
Chef Masa Takayama provides an elegantly simple and almost spiritual culinary experience for his patrons at Masa, 10 Columbus Circle at Time Warner Center. Striving to "bring 100 percent of the essence of something, the umanmi to the outside," Chef Masa's entire approach – from his expertly prepared cuisine to the natural and sensual interior details of his dining room – brims with integrity and grace. Masa's menu of Japanese cuisine and sushi is prepared and served quickly in order for the diner to experience it in its "living, being state." Although Masa's fixed dinner price is considered high, it practices the Japanese custom of not accepting gratuities.

Le Bernardin
Le Bernardin at 155 West 51st Street boasts an almost dizzying list of the highest industry accolades and recognitions, and awards for everything from restaurant design to wine service. Yet Chef Eric Ripert and co-owner and founder Maguy Le Coze see to it that the true star is the magnificent fish they serve. In their private dining room, modern event space, Aldo Sohm Wine Bar, and separate lounge (with its own menu), seafood is celebrated and revered in the most succulent ways imaginable. Dining room menus include lunch, dinner, a Chef's Tasting menu, and Le Bernardin Tasting menu.
Take Your Taste Buds On A Tour
NYC Restaurant Week is a great way to experience fine dining in New York City without breaking the bank. This semiannual event running from July 24th through August 18th allows participating restaurants the opportunity to offer special three-course lunch or dinner menus prix fixe.
Get more information and search for participating restaurants by name, cuisine, location, and more at nycgo.com. Bon Appetit!
Look for next week's blog, "Hole-in-the-Wall: Experience the Charm of Small Eateries."