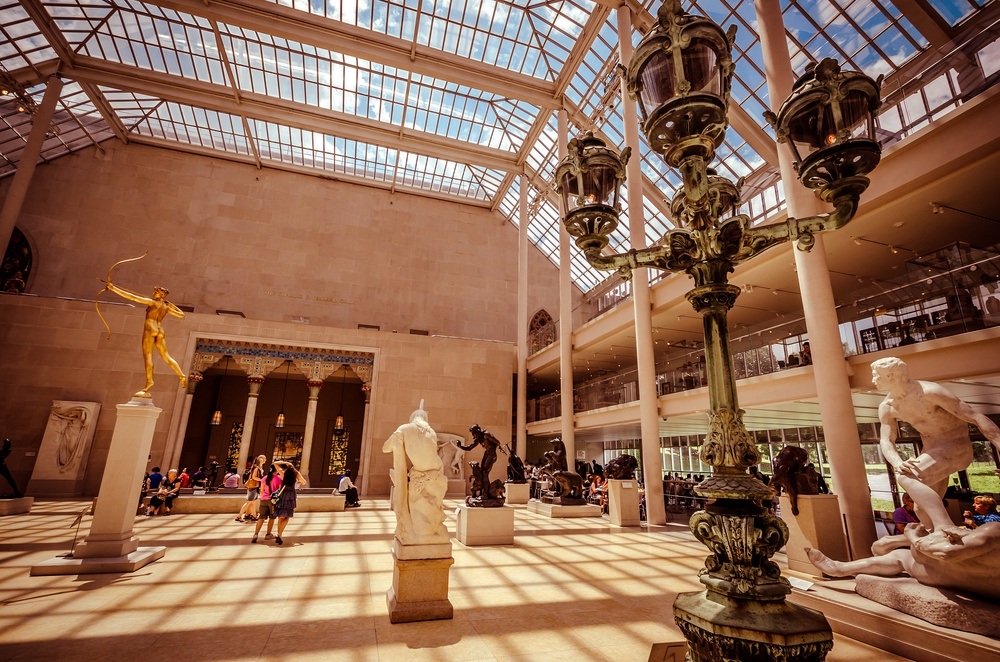 As home to over 100 museums, New York City is generally considered to be one of the best museum cities in the world, rivaled only by Paris and London. As one of the world's top cultural meccas, New York City boasts a wide variety of museums from the obscure to world-renowned.
NYC museums are as diverse as the works of art that lie within them, from a converted ground-floor elevator shaft featuring modern-day oddities to a sprawling 2 million square foot, ever-evolving structure housing some of the world's greatest masterpieces of art and marvels of architecture.
With ancient artifacts dating back to the Lower Paleolithic period to the mixed-media presentations of modern-day artists, NYC offers countless displays of varying artistic styles, time periods, and mediums – much more than one person could view in a lifetime.
The sheer volume of exhibitions and subjective artistic preferences aside, any New York City museum tour would be incomplete without viewing some of its most illustrious permanent exhibitions. Here are our top five picks.

The Starry Night – Vincent Van Gogh
Arguably one of the world's most famous and inspirational paintings is Vincent Van Gogh's, The Starry Night, at the Museum of Modern Art (MOMA). The emotionally-troubled Post-Impressionistic Dutch master painted this masterpiece in 1889, as he convalesced at a mental institution in the French Provence of Saint Rémy. In fact, this painting was inspired by the view from his room at the asylum, although the actual content of the painting comes largely from his imagination.
Although harsh criticism from art critics at the time prevented Van Gogh's work from being valued or appreciated, his bold brush style and emotionally-charged technique facilitated the Expressionism movement of the early 20th century.
Along with the darker color palette reflecting Van Gogh's relapsing depression, the painting has long been regarded as having deeper, more religious meaning, with some believing a direct connection to the Genesis 37:9 biblical verse.
Les Demoiselles d'Avignon – Pablo Picasso
Also on display at the MOMA is this revolutionary work by Spanish artist Pablo Picasso in 1907. The 25-year-old Picasso moved to Paris, and spent six months laboring through the artistic process, creating preparatory sketches and paintings, before creating this 7' x 8' work on canvas.
Translated as "The Young Women Of Avignon", this piece is a culmination of various motivations and conflicts that simultaneously inspired and plagued the young artist at the time. Taking a cue from Paul Cézanne's form and structure, Picasso's sharp angles and spacial experimentation works through his conflicted feelings towards the prostitutes he visited on Avignon Street in Barcelona, while incorporating his captivation with African and Iberian masks and statues.
Both the public and the art community were outraged by Picasso's painting, with its blatant rejection of traditional societal values and popular artistic techniques. It remained virtually hidden and unknown for close to 40 years after its initial showing and is widely regarded as being the impetus for the cubism movement.

Bridge Over a Pond of Water Lilies – Claude Monet
Gracing the walls of the Metropolitan Museum of Art (The Met) is the French Impressionist Claude Monet's famous 1899 landscape, Bridge Over a Pond of Water Lilies.
Monet defied the artistic traditions of his day by being the first to leave the controlled environment of the studio to set up his easel outdoors to pioneer "open-air" painting.
The outdoor setting for Bridge Over a Pond of Water Lilies is one that Monet himself physically created. As a passionate horticulturalist, a middle-aged Monet purchased land in Giverny, growing and cultivating the landscape and grounds to create beautiful subjects for numerous paintings, and a comfortable place to live and work among nature.
The Death of Socrates – Jacques Louis David
A shining jewel among the Old Master's collection at The Met is Jacques Louis David's magnum opus, The Death of Socrates, painted in 1787.
The painting exhibits outstanding neoclassical technique and composition. The depiction of Socrates dying for his beliefs mirrors the artist's call for honor and courage among his countrymen prior to the French Revolution, to stand up for one's beliefs and convictions.
In 399 B.C. the Athenian government found Socrates guilty of corrupting the minds of youth with his teachings and forced him to either denounce his beliefs or kill himself by drinking a cup of Hemlock. The painting depicts a noble and spirited Socrates philosophizing on his deathbed, surrounded by his grief-stricken disciples and slaves.

Black Lines – Wasily Kandinsky
This pivotal piece of modern abstract modern art displayed at the Guggenheim Museum was painted by the Russian artist, Wasily Kandinsky, and was one of his first nonobjective paintings.
By 1913, at the time of this painting, the classically-trained Kandinsky had mastered his abstract and stylistic technique as evidenced by Black Lines, with its bold, graphic lines, and vibrantly-colored shapes, and dynamic brushstrokes.
It was a long, and purposefully-phased journey towards total abstraction in which Kandinsky carefully brought the public along slowly, in order for them to appreciate, understand, and accept the art on a deeply emotional and spiritual level, transcending all boundaries.
love, hope, tremble, and live
These five seminal pieces of art serve as a foundation for the ever-changing art scene in New York City. New York City museums offer exciting works of art to delight, educate and inspire the art novice and expert alike.
In the words of sculptor Auguste Rodin, "The main thing is to be moved, to love, to hope, to tremble, to live."
Check out these new art shows at galleries and NYC museums this Spring.
Discover our rooms and amenities at The Marmara Park Avenue for an enhanced experience in NYC. Book now!