There are many forms of self-care inside NYC and out. Many of the best practices for centering and cleansing are derived from ancient traditions all over the world. The Marmara Park Avenue is lucky enough to have a traditional Turkish Hammam in its beautiful subterranean wellness center. If you're curious about this and the other wellness offerings of the hotel, read on.
Regenerate your body and purify your spirit
Ancient cleansing traditions that regenerate the body and purify the spirit have been, and continue to be, a part of many cultures across the globe. In ancient Greek and Roman times, public baths were medicinal centers as well as hubs of social activity and political discourse.
Between the 6th and 11th centuries, when Turkic people from Central Asia migrated to Anatolia (modern-day Turkey), their steam bath rituals ("Manchu") were infused with the Roman bath culture. In this manner, the Turkish Hammam tradition was born, contributing greatly to Turkish culture throughout history.
The Turkish Hammam became an amalgamation of cultures in both customs and architecture. Like Roman bath rituals, Turks used steam heating in the bath, and both had three separate chambers that were cool, tepid, and hot. Yet, unlike Roman baths that used immersive cool pools at the outset (as preparation for the warmer rooms), Turkish Hammam preferred running water for hygienic purposes and used the cool room at the end for recovery and refreshment.
Hammams were prevalent throughout all of the 16 Great Turkic Empires. They played a critical role in the longevity and resilience of the Ottoman Empire, expanding with the empire as it spread into countries such as Cyprus, Egypt, Syria, and Hungary.

Meet a new way of healing in The Marmara
Hammams allowed people of varying social statuses to gather for not only relaxation, but socializing, networking, and discussing matters of political and cultural significance.
Public baths were also a big part of Moroccan culture and eventually made their way into the British Empire and Western Europe during the Victorian Era.
While the political influence one can sway in a hammam may have diminished over the years, the cleansings rituals have not. The entire body is scrubbed and massaged from head to toe, thereby cleansing and detoxifying it while stimulating both circulation and the immune system.
Other benefits include total relaxation, mental invigoration, and a re-connection with one's spiritual energy.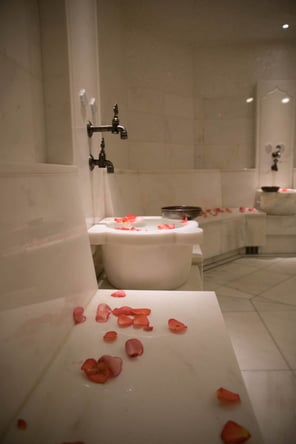 the marmara's hammam
Inspired by the ancient Turkish Hammams of the Ottoman Empire, The Marmara Park Avenue's authentic Turkish Hammam offers hotel patrons a mind-body-spirit experience that is relaxing, comforting, and rejuvenating.
Upon entering the hammam, you will get a peshtemal (a cotton towel to wrap your body in), slip-resistant slippers, and a bath towel to use after bathing.
Stepping into the elegant and spacious chamber, you are at once immersed in the warmth of hot steam. The beehive-shaped, floor-to-ceiling marbled room has been specifically designed to maintain proper heat and humidity levels. The room is heated from beneath and maintains a comfortable, not overly-hot temperature.
Marble seating runs all along the perimeter of the hammam. There you will relax for a short time while your body naturally loosens toxins and impurities through the process of sweating. You are free to rinse off with warm water as you sit.

As in any authentic Turkish Hammam, there is a platform in the center of the room with a large, flat marble stone (the middle stone) on top. This is where you will go next for a foam bath experience unlike any other.
Lying down on the stone, your attendant—Tellak (male) or Natir (female)—begins the traditional body treatment. As your body is doused with warm water, the attendant scrubs and massages you with a Moroccan Kessa glove that both exfoliates and smooths your skin.
The traditional fragrant black soap, with its buttery texture and traditional ingredients, has antiseptic and antibacterial properties that will cleanse and purify your skin. Dipping a linen cloth into soapy water, your attendant then aerates the cloth, swirling it in the air above you to create a "balloon" of foam. The balloon is then squeezed, covering your body with luxurious bubbles.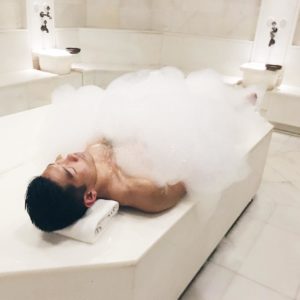 Finishing off with a warm rinse, feel free to linger for a bit in the bath area. Some guests feel so relaxed and sleepy, and they prefer to head back to their room for a blissful nap.
Whenever you do leave The Marmara Park Avenue's hammam, you will be restored inside and out; every muscle in your body will feel relaxed while your mind will be free from stress, and your spirit will soar.
We invite you to an unforgettable experience for revitalizing and purifying your mind, body, and spirit in The Marmara Park Avenue, located in the heart of NYC. Book now!