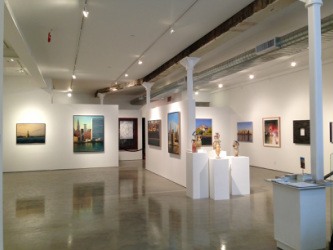 New York City has always been synonymous with art and culture. Because of ethnic diversity, progressive social views, and opportunity, the city has always attracted and inspired the most exciting and talented artists – and avid art-lovers.
Along with its many museums devoted to the collection, preservation, and education of the arts, New York City has an estimated 700 art galleries that promote – and sometimes sell – the work of both contemporary and historic artists, photographers, sculptors, visual artists, and more.
Although there are many fantastic galleries in the boroughs of New York City, we will focus on those in Manhattan, which are as diverse as the neighborhoods most of them are located in – namely, The Village, Chelsea, Soho, Tribeca, and the Lower East Side.
A tourist guide might bring you to the many wonderful, better-known mega-galleries exhibiting mostly well-established "blue-chip" pieces. However, if you are interested in a more intimate experience, we suggest exploring one of Manhattan's many smaller art spaces, featuring important and compelling displays of art in their own right.

Photo: Artefuse
The Krause Gallery
Both internationally-recognized, and up-and-coming contemporary artists are featured in this gallery mostly known for the avant-garde, modern, and urban/street art in a variety of mediums. Director Benjamin Krause opened this gallery in 2004.
Pop International
Since Jeff Jaffre founded Pop International in 1997, his focus has been to make the art-buying process fun, accessible, and satisfying for both artist and collector. His gallery is full of energy, and is a celebration of pop culture featuring art, photography, and urban art.

Ramiken Crucible
The mission of this understated gallery is to showcase work by promising artists in a deliberately unpretentious way. The name is a pseudonym that the gallery's artist/musician Founder, Mike Egan, used to anonymously sign his artwork. It also serves as a symbol of the gallery's desire to, in their opinion, "subvert the worthless conventions of professionalism that proliferate in the art world."
The Lilac Gallery
This walk-up, mainly "by appointment" gallery is touted as being one of the more intimate galleries in Manhattan, run by passionate and highly-knowledgeable art purveyors. While the primary focus is on international contemporary art – with a story to tell, using experimental techniques – the gallery also showcases select American and European fine artists as well.

Bitforms Gallery
This venue is devoted to representing and advocating for media artists creating a variety of exciting and unique internet, time-based, digital, and other technology-based art. The work by several artists represented by the Bitforms Gallery is also exhibited at some of the most well-respected museums throughout the world.
Andrew Kreps Gallery
This smaller gallery is building quite a reputation for itself with its ability to nurture young, ripe artists ready to bloom, and its show-stopping, visually-exciting exhibits of art and sculpture.

Shin Gallery
Featuring both Korean contemporary artists and international artists creating in all mediums, the majority of works at the Shin Gallery are by innovative artists who have never shown in the United States, despite popularity in their countries of origin.
Staley-Wise Gallery
This Soho gallery presents the best in fashion photography, nudes, famous portraits, and landscapes by the world's most distinguished photographers, including Horst, Herb Ritts, Bert Stern, Phil Stern, Lillian Bassman, and more.

Taglialatella Galleries
Pop and street art created by international modern and contemporary artist take center stage at Taglialatella. It is one of the most important Andy Warhol dealers, and home to other contemporary masters such as Hirst, Wesselmann, Arman, Christo and Hirst.
George Billis Gallery
Featuring the work of local, national, and international artists, the George Billis Gallery is one of the original galleries in the thriving Chelsea Arts District. It features the work of artists that are new, and also those that are recognized within the arts community. Los Angeles, California is home to an additional space.

Fifi Projects
Many contemporary artists are displayed at Fifi Projects. It is self-proclaimed multi-discipline "enterprise" with locations in San Pedro and Mexico City – where it spearheads annual university arts education programs.
Con Artist
This gallery is an entire community of artists – a family as they refer to it – that shares this communal space to work together, inspire each other, and show and sell their work. Visitors are encouraged to schedule a tour to get an insider look at the Con Artist Collective.

Regina Rex
You will find a collaborative gallery of a different kind at Regina Rex. Having moved from their previous space in Brooklyn, and adding new artists to their collective, this gallery – although conceptualized and operated by artists – does not exhibit the work of the artists who run it. Instead, they focus on both rising stars, and established artists and sculptors (past and present).
Kiki Gallery
Led by French artist of Italian heritage, Willy Biaggi, the artists of the Kiki Gallery offer bold perspectives on pop, figurative, and abstract art. Their aim is to "make high quality artwork available to the public", even promoting that their works can be adapted to fit specific sizes, upon request.
Create Your Own Experience
There are many more galleries in Manhattan that offer engaging and thought-provoking works than space will allow here. If you are looking for up-to-minute exhibition information, or want to explore the abundant options available, visit artcritical.com and artcards.cc.
For a fun and exhilarating gallery experience, plan a gallery hop on a Thursday night, when galleries in Chelsea and other arts communities host exhibit-opening parties. It's a great way to see what's new, perhaps get a chance to meet with an artist or two, and the galleries usually offer free wine and snacks. Register on Meetup.com to see the list of openings this week, and register to join a gallery-hopping group.
Look for next week's blog, which begins a three-week look at Broadway.